Ed Fringe Interviews: Francesca Forristal, "Dragprov Revue"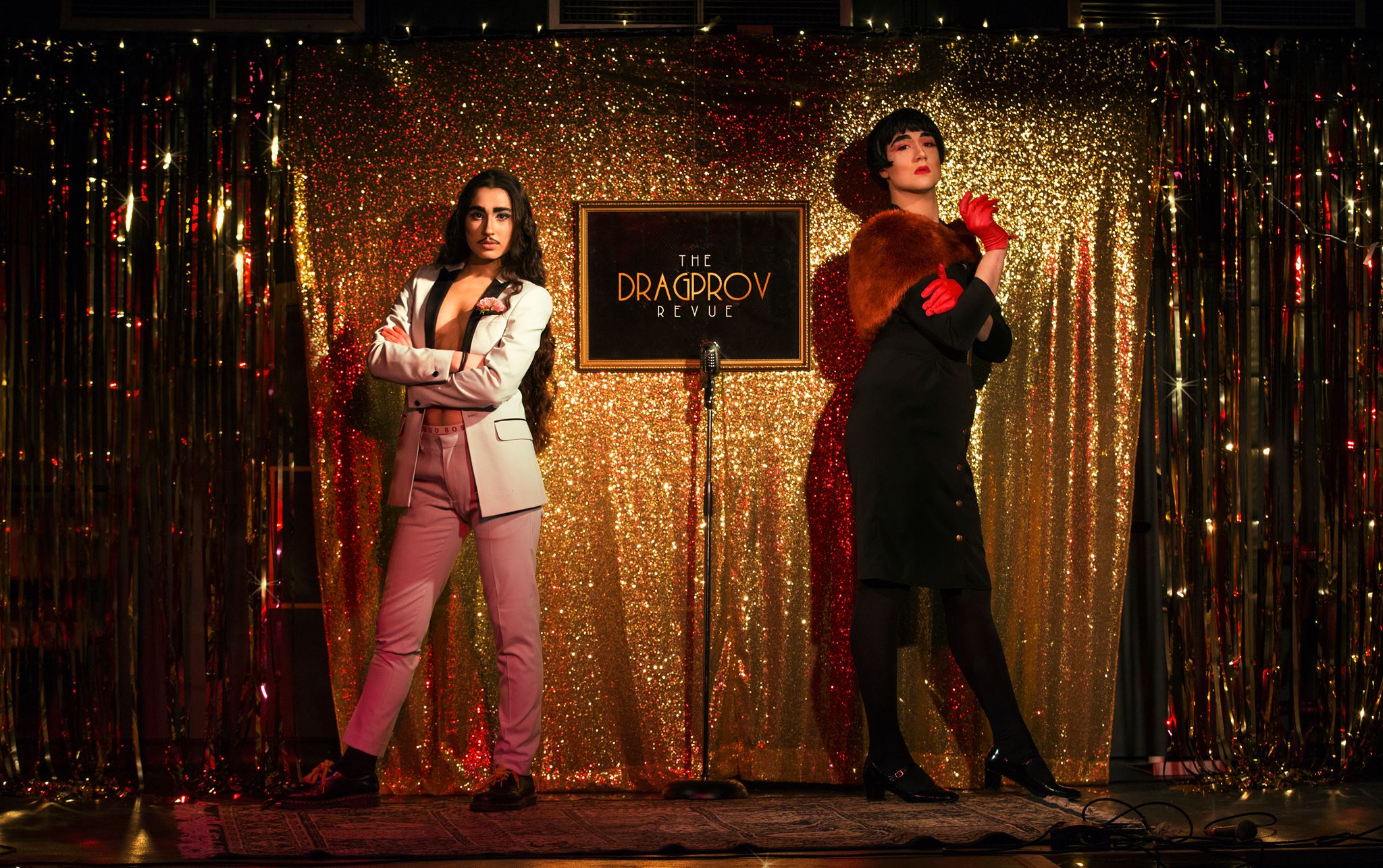 Dragprov Revue, Sweet Novotel, August 18-26, 22:00
Tell me about Dragprov. 
Dragprov is a drag king and queen duo who are a co-dependent, in that they both have big dreams but will probably never leave each other. Named Eton Mess and Christian Adore, they have a weekly cabaret, and the same three local bums come and think it's the best theatre ever. The show that you see here at the Fringe is one where they see a new person who will rocket them to the starlights of Chicago and try to impress them. Christian gets very excited, and says we have to do a completely new show, in light of this important person. We serenade and interview the person, and make up a song for them. The rest of the show is scenes from their life in the past, inspired by suggestions. We wanted to make some musical comedy in which the joke wasn't, oh look it's bad music, but rather, it's improv and it's good music. We do some short form where there's genre-songs—it's quippy, it's a bit witty, because we're both academic at heart. We wanted to do something that was visibly queer theatre, but that wasn't bawdy or sexual. We see a lot of association between queer theatre and sexuality and crassness — there's a preconception that queer theatre must be sexualized. Gay does not equal vulgar! We had 7-year-olds in the other day — I was proud that the show didn't have one swear word in it, just good sexy comedy. De-stigmatizing drag is a big thing for us.
What's the best thing about the Fringe?
Taking a punt on something, and discovering something really cool. For example, I got talking to a random guy on the mile who had some dark eyeliner on. He said, Oh my god, you're a king and queen, and he was a jewish drag queen. He gave me a comp to his show, Red and Boiling. I don't come to the Fringe to see expensive shows or things I've already heard of — I go to find new things!
What's the worst?
The amount of one-man, white, cis male comedian stand up shows where the poster is them in their boxers looking quizzical. Once you see it, you can't unseen it. I'm done with that.
Favorite show so far?
I'm really looking forward to The LOL Word, it's a collection of queer women doing comedy not just about being queer. My biggest advice is to go to a line up show, then go see something you like. I'm also excited for Rachel Parris' Musical Comedy Club, a line up show.
Projects you're looking to work/collaborate on in the future:
I'm big on musical comedy - anything with music in it. I love musicals, but also silly songs, sketches, etc. I'm big on character comedy, and I also write quite a lot. If anyone
wants to collaborate on writing, I'd be big on that.
Anything else?
Take a punt on things! Don't just go to see that stand up comedian you saw at the Apollo, take that flyer that's been produced on power point on newspaper. Because those shows are the best I've seen at the Fringe, and they're the reason I come to the Fringe. Even if they're hilariously terrible, it's so much fun to go have a drink after and say, what did we just see?
Also, queer art doesn't have to be sexualized. You can't say you like drag if you've only seen Ru Paul. Support local kings and queens. If you say you like drag but you only seen Courtney Act, you need to support other kings and queens. She's great, but go support your local drag.
Part of the Main is conducting interviews with women, nonbinary, and femme-identifying theatremakers who are up at the Edinburgh Festival Fringe. If you're interested in being featured, email hello@partofthemain.com to get in touch.