Hidden Theatre Part 2: "It's about finding the right person"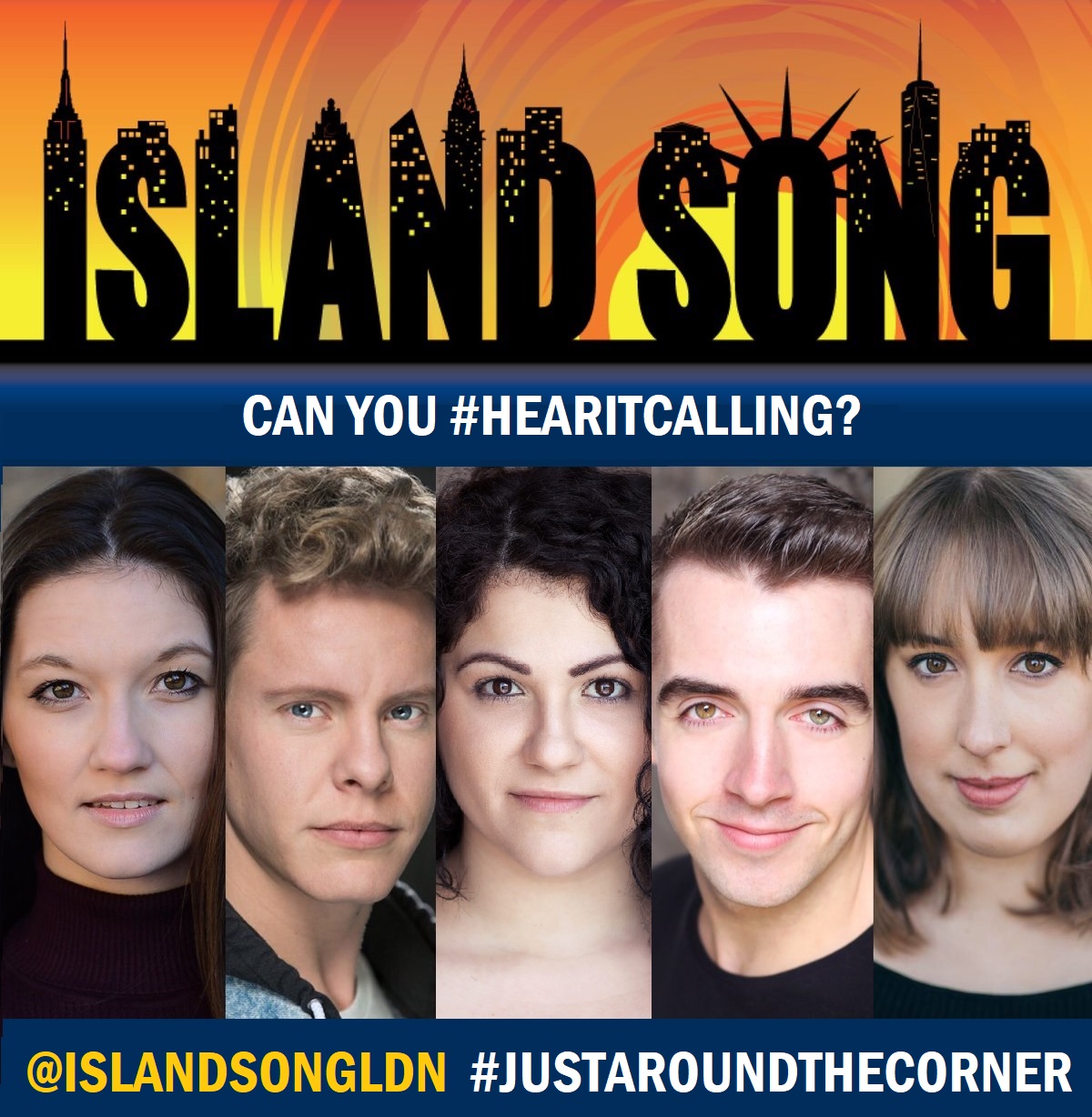 A theatre company so nice we're featuring them twice: Part 2 in our series on Hidden Theatre Company! (Read Part 1, by Co-Artistic Director Abby Restall.) I met with Drou and Abby, founders and Artistic Directors of Hidden Theatre Company, in the lobby of The Cockpit Theatre after one of their rehearsals for their upcoming production of the new musical Island Song. For this production, they've added two hats to the already teetering pile: Producers and Performers. Smiling and excited despite their hours of singing and staging, we talked about putting together the production, learning through experience, and their advice on how to make your own work. (Spoiler: Just do it!)
Olivia: Tell me about Island Song.
Abby: I first came across this production four or five years ago. I did a workshop with [writer and composer] Sam Carner at the University of Central Lancashire. Through that, I got his email address. When we set up the company [Hidden Theatre], we started thinking about what kinds of shows we wanted to do. I showed Drou the music to Island Song, and said, "I'm just going to email him, and he'll probably say no, but what have we got to lose?" But he was incredible. He loved that we were interested, and said he would love for us to do the show. W did a workshop with Carner and [Derek] Gregor last year. Drou went over to New York and met them last year.
Drou: They're the loveliest people you'll ever meet. They've been really supportive—anything that we've emailed Sam about, he's always happy to help us with.
Abby: A year and a half ago, we started talking about actually doing the show, and all of these connections started coming together. When we finally confirmed our venue in January, everything else just fell into place. Things haven't slowed since, and I can't really believe the performance is almost here.
Drou: It's going to be so weird after it's over—we've been talking about the show from a producer's perspective for so long.
Olivia: What has that entailed?
Abby: We run this company in addition to our day jobs, and having normal lives. It took a while to get some of the formalities confirmed; we couldn't get the license until we had the theatre, then we didn't want to get the actors and director until we definitely knew the dates. All of those plans came into formation in the space of one week. Over the next three weeks, we got the license, the venue, met with directors and the creative team, and cast the show.
Drou: And this was at the same time we were hosting "Scratched."
Olivia: How have rehearsals been?
Abby: We're really lucky to have gotten a great company. Drou and I are performing in the show, and we have director Christian Bullen, and Ben Papworth is the MD. Our actors are Stephanie Lyse, Joshua Wills, and Jack Anthony Smart. It's a really nice vibe in the rehearsal room, and we got really lucky with it being a collaborative environment.
Drou: We've learned so much. Though we discussed the show when we formed a company, we'd never done anything like it before—we'd just completed our Master's degrees at Central, we'd done performing, but we'd never produced. We've learned as we gone along.
Abby: We presented Making Waves at the Camden Fringe, and we learned so much through that. This process—for us, on the admin side—has been much easier this time around, since we know what things work and what things don't.
Drou: We know what timescales to do things on, such as when to send the press release—last time, we had no clue! We were so green. But all you can do is just keep moving.
Abby: We had to make the mistakes for this to run smoothly. At one point, in our previous show, we spent more money on some things than we needed to, but now we're learning—we had to make those mistakes to learn for next time. "Just keep moving"—it's from the finale of our show, which we've been working on today. Just keep moving, and everything will fall into place.
Olivia: So what's the show about?
Drou: It's about five different people. My character is a lawyer, and when she meets another character named Will, she has to choose between her career and this new relationship.
Abby: It's about five individual characters that move to New York, and you see their lives play out. Drou's character, Jordan, meets Will, and they're the only two who have a real connective relationship. Everyone else is on his or her own journey. There's a lawyer, a cabaret singer, a character who has followed a boyfriend, and an actor—you see people settle in and try to make it in the city. They're all striving to achieve their goals.
Drou: It's all very clever the way the characters intersect—one character gives another some money in his hat, because she thinks he's begging, and then he can afford to go to his audition. You don't realize how your actions affect someone else—it's about thinking about the bigger picture.
Olivia: What drew you to put on this production now?
Drou: I think it's relatable. The music is amazing as well. (Abby: You can download the music free on their website!)
Abby: It's clever and beautiful—it's what drew us to the show first. We wanted to do it in springtime before Fringe season, and after panto season. We thought it would work nicely in spring, as it's all about new beginnings.
Olivia: Tell me about the John Thaw Initiative.
Abby: I'm a member of The Actors Centre. The Centre is giving out the John Thaw studio for free as part of the Initiative, and we were awarded two nights. We're part of the first ever Initiative. The new Artistic Director wants to make the Centre into a place that develops new work. We're going to preview the show, and then after the show, we'll have a Q&A. It's for the audience to ask us questions, but also for us to ask the audience what they thought. We then transfer to the Nursery just over a week later. We'll take the feedback and further develop our show.
The industry is changing—it used to be, if you're a director you direct, if you're an actor you act, if you're a producer, you produce. Now, it's about creating your own work and opportunities. With the growth of social media, you can market your own show. You've got to make and create your own work. Our ethos is to showcase hidden talent and work to be passionate about. We find work we like, and people who are equally passionate—you can't just sit around waiting for the phone to ring. You've got to just do it. As an actor, it's so much more interesting than waiting around for roles. I have a company—I make my own roles.
Olivia: What do you hope to get out of Island Song?
Drou: We're doing it because of our ethos—this is the first UK production of the show, so I feel like if we're getting out there, that's enough. It's great to work with people you really like on material you really love.
Abby: We've spent so long thinking about the show—we just want to get it done! If something else comes up, great. But now, we just want to do it! If someone wanted to transfer or develop the show, great; but for now, we'll see. You can't pin a load of expectations on something—we want to do the show, and to do it really well. And we will.
Olivia: What advice do you have someone who wants to make their own work?
Abby: Just do it. People are much friendlier and willing to help than you think they are. When we first started, we just messaged people and said—got any advice? People were so willing to help! If you want to make work, find someone else who wants to do it too, and just do it.
Drou: Send us an email! We're happy to help.
Abby: The hardest thing for us, at the beginning, was choosing a name! We decided we wanted to do a show, and how to do it. When we thought, ok, we're probably a company, it took us hours—
Drou:—over cake and tea—
Abby: Deciding what to call ourselves! The things you think will be most difficult usually aren't. I thought the most difficult thing would be securing a theatre. If you make a decent show pack, with all your details and goals, other people will be with you on that.
Drou: If you're passionate about something, people will latch on. If you've got a show you want to make—I don't know, a brown sofa—great, be excited and do it! But I wouldn't be able to do it without Abby.
Abby: You need to find the right person. We put so many hours into this, and we don't get paid for it, and take no money for ourselves. You just need to find someone else who matches your work level, or balances you out. I like doing social media, Drou likes doing the graphic—we balance each other out. We know each other so well, and we can understand. You just need to find that person. Not everyone works well with their best friends! You can't run a company with anyone. You need to find that perfect balance. But also, be open enough to listen to each other.
Olivia: Anything else?
Drou: Come see the show!
Island Song opens at the Nursery Theatre on April 12 and runs through April 18. Tickets available here.